Instagram monthly, my new monthly linky, didn't happen in May on account of general illness and tiredness in the Purple house. No problem, onwards with June. To take part in the linky share your favourite Instagrams from the last month in a blog post, then add the Instagram monthly badge (copy the code below my badge onto your post in the text editor) and link up. Go on, I'd love it if you joined in.
This month I returned to the barre to reignite a childhood passion. I even 'have' to wear ballet shoes, teachers orders, honest.
I spontaneously visited The Other Art Fair with the always intellectually stimulating Gemma (Hello It's Gemma) and her seven year old son. I'm always a little unsure how to deal with viewing art, do I need to stand back and rub my chin thoughtfully? So I decided to enjoying it my way and found some really great pieces.
A perfect family day out in Clevedon. All the right ingredients, pub lunch, rock clambering, ice cream and a bouncy castle. Just look at that view.
The planting next to my favourite seat in our garden. My favourite Alliums, and foxgloves making the bees very happy.
Sunny day, garden selfie. With the children all at school I was enjoying the sun on my lawn and feeling very mellow.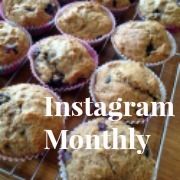 "
<divalign ="center">
<a href = "https://www.purpleella.com/2015/04/28/april-instagram-monthly/">
<img src = "<a href="http://s172.photobucket.com/user/Ella_Tabb/media/Instragram%20linky%20blog%20button_zpslxlcsbyc.jpg.html" target="_blank"><img src="http://i172.photobucket.com/albums/w10/Ella_Tabb/Instragram%20linky%20blog%20button_zpslxlcsbyc.jpg" border="0″ alt=" photo Instragram linky blog button_zpslxlcsbyc.jpg"/></a>"